1918 CURTISS JN4D "JENNY"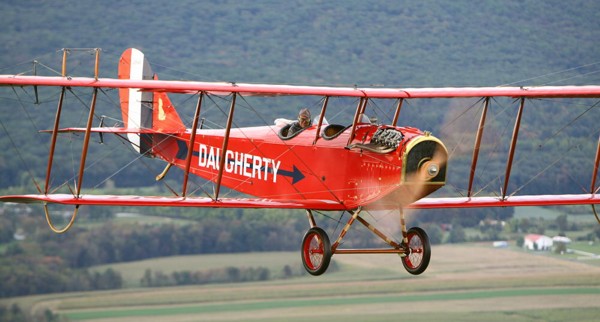 See the Jenny fly - Test Flight Video July 5, 2009
Trailer for upcoming PBS documentary featuring the Curtiss Jenny
Country:
USA
Wingspan:
43' 7"
Year:
1918
Length:
27' 4"
Engine:
Curtiss OX-5
Cruise Speed:
70 mph
Horsepower:
90
Gross Weight:
1920 lbs.
Quantity Mfg:
Approx. 6000
The Curtiss JN4D was designed during World War I as a primary pilot trainer. The majority of American pilots going off to fight, learned to fly in a Curtiss JN4D. The name "Jenny" was adapted by pilots from the Curtiss "JN" model number. Due to its popularity and quantity produced the Jenny became the aircraft of Choice for American pilots returning home from war, these pilots purchased the aircraft as surplus from the military and used them to earn a living; the Barnstormer was born. Not too many of the Jennys survived past the 1920s due to neglect and new regulations. The museum's Curtiss JN4D had not been flown since the 1920s. The restoration is to original condition. The paint scheme represents famous barnstormer and Hollywood pilot Earl S. Daugherty of Long Beach, California.

GOLDEN AGE AIR MUSEUM
Grimes Airfield , 371 Airport Road, Bethel, PA 19507
Telephone: (717) 933-9566
eMail: Contact Us
All materials on this Web Site (as well as the organization and layout of the Site) are owned and copyrighted by Golden Age Air Museum. © Copyright Golden Age Air Museum, 2005. All rights reserved. No reproduction, distribution, or transmission of the copyrighted materials on this Web Site is permitted without the written permission of The Golden Age Air Museum.
Send mail to Contact Us with questions or comments about this Web Site.
Last modified: August 13, 2013