ABOUT THE MUSEUM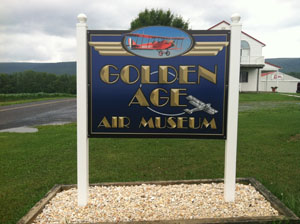 The Golden Age Air Museum was established in 1997, its mission is to entertain visitors and educate them about the early days of aviation, through its special events and daily operations. The museum offers the chance to explore the past, come and learn how the early aviators flew, what they flew and learn the lost art of early aircraft construction. Museum displays include full size operational aircraft and automobiles, as well as displays of artifacts from the Golden Age. Craftsmen are continually working on restoring new additions for the collection, this work is done in view of visitors. Talk with the restoration volunteers and learn techniques and practices of early aircraft builders.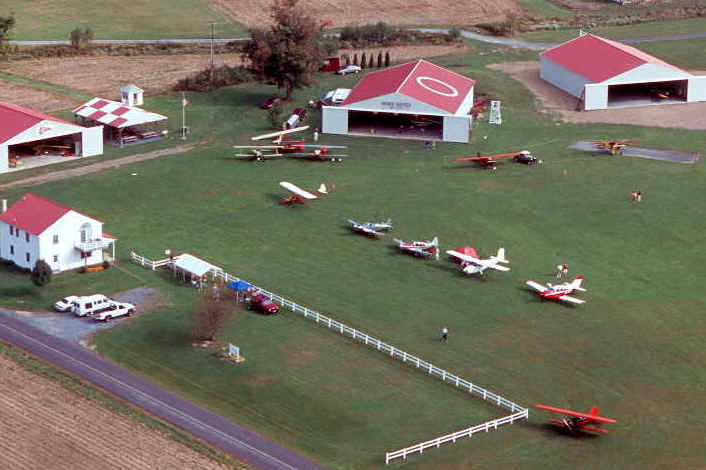 The Museum is a non-profit 501(c)(3) organization and receives its financial support through donations, admission fees & membership donations.
The Golden Age Air Museum collection is available for photo shoots, advertising or production work. Please contact us for details. You can reach us by phone at (717) 933-9566 or email at Contact Us.
Help the museum grow and continue to represent the past, come visit the museum, become a member and join us for a step back in time.
Please help keep the antiques flying , Donate today!

MUSEUM INFORMATION
Grimes Airfield
371 Airport Road
Bethel, PA 19507
Telephone: (717) 933-9566
eMail: Contact Us
Airport Identifier: 8N1

DRIVING DIRECTIONS
From Interstate I-78 east bound, use exit 13, Bethel, Left on Rt. 501 North. Approximately 1/4 mile turn right on to Schubert Road (fist road on the right). Continue approximately 2 miles, Turn right on to Airport Road. Golden Age Air Museum is just ahead on left.
From interstate I-78 west bound, use exit 15 (old exit 4), Grimes, continue north to stop sign and turn left. Continue 1/2 mile to Airport Road intersection, turn left. Golden Age Air Museum just on the left.

HOURS OF OPERATION & ADMISSION INFO
Hours of Operation
| | |
| --- | --- |
| | Saturday, 10am - 4pm. Sunday 11am - 4pm. May through October. |
Admission Price
| | |
| --- | --- |
| | Self-guided tour: Adults-$7, Children age 6-12-$3, |
| | Guided tour: Adults-$15, Children age 6-12-$6 |
| | Current museum members-free |
| | Group rates may be arranged. |

MUSEUM VOLUNTEER STAFF
| | |
| --- | --- |
| | President: Paul Dougherty, Jr. |
| | Secretary: Caroline Dougherty |
| | Treasurer: MIchael O'Neal |
| | Newsletter Editors: Melissa Dougherty & Caroline Dougherty |
| | Director of Acquisitions: Michael Cilurso |
| | Director of Aircraft Maintenance: Michael Damiani |
| | Director of Airfield Operations: David Ritter |
| | SPAD XIII Fund-raising Chairman: Michael O'Neal |
Volunteer Pilots
| | |
| --- | --- |
| | Michael Damiani |
| | Neil Baughman |
| | Gerry Wild |
| | Eric Lunger |
| | Paul Dougherty Jr. |
| | Caroline Dougerty |
| | Tom Beamer |
| | Michael O'Neal |
| | Michael Cilurso |
| | David Ritter |
| | Andrew King |

BOARD OF DIRECTORS
| | |
| --- | --- |
| | Paul Dougherty, Jr. -- Chairman |
| | Michael Cilurso |
| | Michael O'Neal |
| | Gerry Wild |
| | Caroline Dougherty |
| | Paul Dougherty Sr. -- Director Emeritus |
| | Harry Burak -- Director Emeritus |
| | James McCord -- Director Emeritus |

GOLDEN AGE AIR MUSEUM
Grimes Airfield , 371 Airport Road, Bethel, PA 19507
Telephone: (717) 933-9566
eMail: Contact Us
All materials on this Web Site (as well as the organization and layout of the Site) are owned and copyrighted by Golden Age Air Museum. © Copyright Golden Age Air Museum, 2005. All rights reserved. No reproduction, distribution, or transmission of the copyrighted materials on this Web Site is permitted without the written permission of The Golden Age Air Museum.
Send mail to Contact Us with questions or comments about this Web Site.
Last modified: January 12, 2022